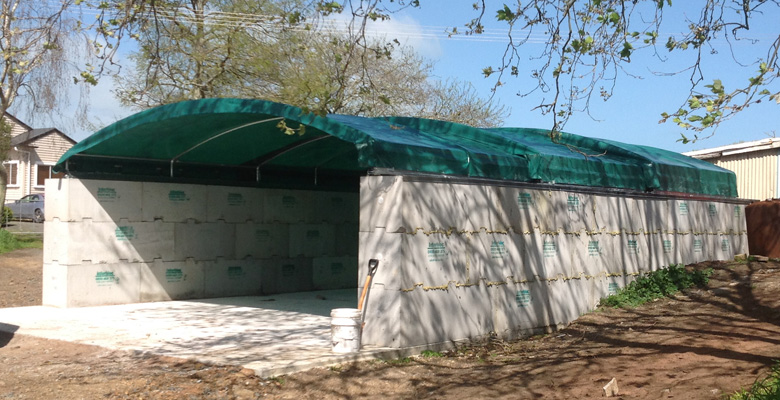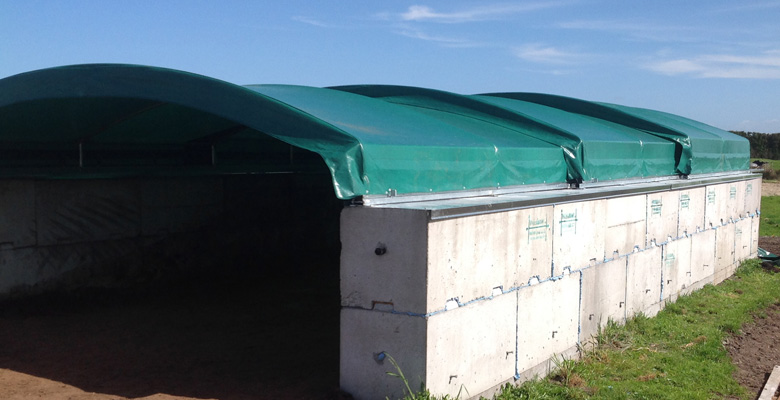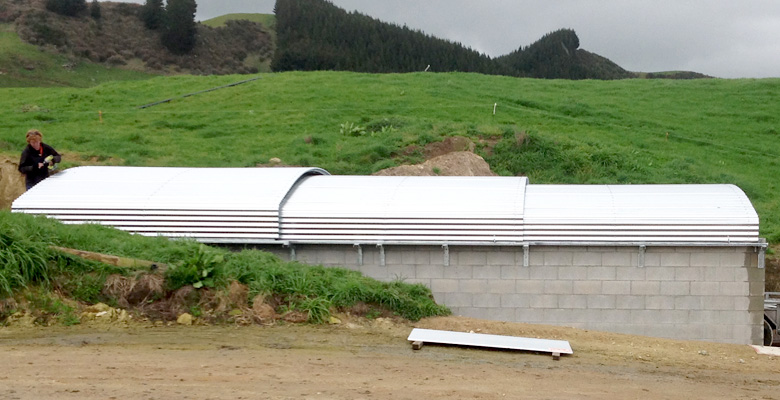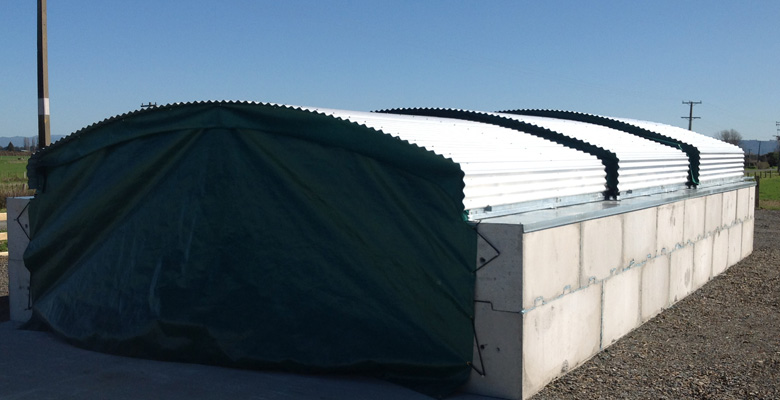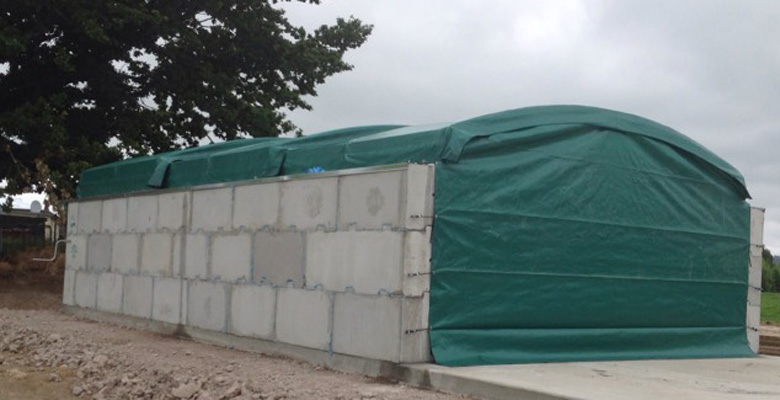 Affordable Retractable Feed and Fertiliser bunker roofs
Superior Weather Protection for Bulk Storage BINS & Bunkers
The Coast Sliding Roofs™ were originally developed for covering supplementary feed such as Palm Kernel (PKE) stored in bins or bunkers and for the storage of bulk fertiliser. The roofs offer efficient and effective pretection from the elements. They provide weatherproof feed and fertiliser storage that minimises wastage and provide easy access for the off-loading of trucks and for farm machinery to load the product .
Traditionally farmers have used post and rails or precast panels for their Palm Kernel bunkers and fertiliser bins. Tarpaulins were then used to cover the bunkers but these are generally time consuming when covering and uncovering the bunker, they do not alway keep the PKE or fertiliser dry and are difficult to handle, especially in wet and windy conditions.
Some farmers had their local engineering company custom build a roof which was the full length of the bin. This required posts installed behind the bin to support the roof it when pushed back. These were expensive and were deemed luxury items so were not widely used.
Coast set out to change that.
The Coast Sliding Roofs™ have proven to be a safe, cost effective, quality retractable roof solution for any covered bulk storage requirements on virtually any solid structure. They have proven to be especially popular for palm kernel storage on various types of bunkers.
The retractable roofing system can be applied to farms, landscape supplies, aggregate yards or anywhere that easy access by a concertina roof to bulk storage is required.
Anywhere you need to keep bulk product dry or prevent it being blown away, Coast Sliding Roofs™ offer a safe, convenient, and easy to operate opening roof cover system.
Features:
EASY ACCESS - Sectional concertina design combined with the winch system make it easy to access stored materials.
SAFER -  Mechanical winch system that eliminates potential health & safety risks associated with other systems
SPACE SAVING - The concertina design minimises the area used when the roof is retracted reducing the space requirements behind the structure.
DURABLE - Heavy duty galvanised steel frame and quality canvas roof cover system combine to produce a lightweight super strong retractable roof.
UNIQUE TECHNOLOGY- Our Ezy-Slide technology does away with moving parts preventing the roof from seizing and ensuring the sliding roof "coasts" back and forth effortlessly.
ANTI-LIFT PROTECTION - Built in Anti-Lift protection prevents the roof lifting off the bin in windy conditions.
FLEXIBLE - The winch system enables the roof to be mounted on structures of virtually any height.
CUSTOMISABLE - The modular design make is easy to customise roofs to suit virtually any structure.
EASY TO MAINTAIN - Modular design allows for easy maintenance of the retractable roof.
PEACE OF MIND - Coast's Retractable Sliding Roof comes with a Weatherproof Warranty for peace of mind.
QUALITY GAURANTEE - 1 Year comprehensive warranty on all components of the retractable roof system along with a 3 year UV warranty on the quality heavy duty canvas cover.